As a senior official at the National Security Agency Thomas Drake witnessed not only widespread waste, fraud, and abuse, but also gross violations of our 4th Amendment rights.
He was a material witness and whistleblower on a multi-year Department of Defense Inspector General audit of a failed multi-billion dollar flagship program called TRAILBLAZER and a breakthrough multi-million dollar intelligence data collection, processing, and analysis system called THINTHREAD that was ready to deploy.
THINTHREAD had been carefully designed to handle data in massive amounts and variety, but to do so with built-in 4th Amendment and privacy safeguards, while providing superior intelligence. NSA rejected it.
Tom Drake stepped forward with the integrity, the courage, and — let's say it, the true patriotism — to blow the whistle. The Department of Justice retaliated by indicting and prosecuting Drake under the Espionage Act and, once again, became the laughing stock of the legal profession.
In Drake's case, government attempts to abuse the law to intimidate those who would speak truth to power expose in a telling way what has become the military-industrial-intelligence-surveillance-cybersecurity-congressional-media complex and its abuses, which drain our treasury, endanger our liberty, and make our country less — not more — secure.
Sam Adams Associates is not the first group to give high recognition to Tom Drake's fearless integrity and endurance in the ordeal he was put through. Earlier this year he was awarded the Ridenhour Truth-Telling Prize.
In partnership with Jesselyn Radack he writes and speaks on whistle blowing, privacy, civil liberties, secrecy, surveillance and abusive government power.
Presented this 21st day of November 2011 in Washington, DC, by admirers of the example set by former CIA analyst, Sam Adams.
Related Articles
(Report below from Ray McGovern)
The occasion was the annual meeting of the Academy of Philosophy and Letters, June 13, 2015, at the BWI Doubletree Hotel — oddly, surrounded by NSA buildings in Linthicum, MD.
The evening program was hosted by John Henry, of the Committee for the Republic.
The topic was: "The National Security Agency's War on the U.S. Constitution"
Speakers: William Binney, Kirk Wiebe, Thomas Drake, James Bamford, Bruce Fein, John Henry, and Ray McGovern
The Committee for the Republic was pleased to afford an appropriate occasion for William Binney to receive the framed citation (in English and German) for the Sam Adams Award for Integrity in Intelligence. The award was originally presented to Binney at an SRO ceremony in Berlin on January 22, 2015.
Ed Snowden, who was live-streamed into that Berlin ceremony, emphasized that "Without Bill Binney there would be no Ed Snowden." Bill, in turn, had been greatly encouraged by the courageous, principled stand taken by Tom Drake in facing down the U.S. Department of Justice and NSA successfully, after four years of persecution that included government-provided "evidence" proven in Court to have been forged.
Actually, in a very real sense, it was a triple-play: Drake to Binney to Snowden. So it was altogether appropriate that Tom Drake be the Sam Adams Associate to present the framed award to Bill Binney on June 13, 2015 in the belly of the (NSA) beast.
Tom also had been the clear choice of his colleague Sam Adams Associates to present the 2013 award for integrity in intelligence to Ed Snowden in Moscow on October 7, 2013. As soon as Ed surfaced in Hong Kong, he made it clear that the U.S. government abuse of Tom had convinced Ed that he had to leave the U.S. in order to achieve his mission and have some chance — however slight it seemed at the time — of avoiding spending the rest of his life in prison.
Hats off to Drake to Binney to Snowden: courageous patriots all!
Seven prominent national security whistleblowers Monday called for a number of wide-ranging reforms – including passage of the "Surveillance State Repeal Act," which would repeal the USA Patriot Act – in an effort to restore the Constitutionally guaranteed 4th Amendment right to be free from government spying.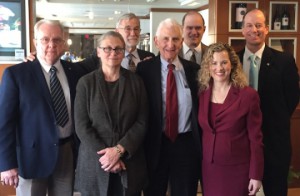 (Photo of (left to right) Kirk Wiebe, Coleen Rowley, Raymond McGovern, Daniel Ellsberg, William Binney, Jesselyn Radack, and Thomas Drake by Kathleen McClellan (@McClellanKM) via Twitter)
Several of the whistleblowers also said that the recent lenient sentence of probation and a fine for General David Petraeus – for his providing of classified information to his mistress Paula Broadwell – underscores the double standard of justice at work in the area of classified information handling.
Speakers said Petraeus's favorable treatment should become the standard applied to defendants who are actual national security whistleblowers, such as Chelsea Manning, Edward Snowden and Jeffrey Sterling (who has denied guilt but who nevertheless faces sentencing May 11 for an Espionage Act conviction for allegedly providing classified information to New York Times reporter James Risen).
In a news conference sponsored by the ExposeFacts project of the Institute for Public Accuracy at the National Press Club in Washington, D.C., speakers included William Binney, former high-level National Security Agency (NSA) official; Thomas Drake, former NSA senior executive; Daniel Ellsberg, former U.S. military analyst and the Pentagon Papers whistleblower; Ray McGovern, formerly CIA analyst who chaired the National Intelligence Estimates in the 1980s; Jesselyn Radack, former Justice Department trial attorney and ethics adviser, and now director of National Security and Human Rights at the Government Accountability Project; Coleen Rowley, attorney and former FBI special agent; J. Kirk Wiebe, 32-year former employee at the NSA.
Excerpt: "The museum that now occupies the building is an oddly mundane reminder of another era: Indistinguishable rooms of desks, phones and filing cabinets, fenced by aging net curtains filtering the sunlight. It is the walls adorned with surveillance photos of supposed state enemies, and exhibits of household gadgets planted with audio recording devices, that color the office's banality with a shade of darkness.
But the specter of Big Brother lingers, as I'm reminded by the man who is accompanying me through the exhibits: William Binney, the former NSA technical director who helped design mass surveillance systems for the agency, before spending a decade warning the world about the risks of those systems. As we tread past identical desks, retro rotary dial phones, and electromechanical typewriters, the Stasi's quaint spying technology reminds him of his NSA office in the 1980s, he says. Except the NSA today is estimated to hold one billion times more data than the Stasi held.
"The NSA's agenda is to control the government, and control the population," Binney says."
(Full Motherboard VICE Media article here.)
Exclusive: For many years, the East German Stasi was viewed as the most totalitarian of intelligence services, relentlessly spying on its citizens during the Cold War. But the Stasi's capabilities pale in comparison to what the NSA can now do, notes former U.S. intelligence analyst Elizabeth Murray.
By Elizabeth Murray
On a chilly morning in late January 2015, an unlikely assortment of former U.S. and U.K. intelligence officers gathered at the former headquarters of the Stasi — the former East Germany's Ministerium fuer Staatssicherheit [Ministry of State Security] — for a tour of Berlin's "Stasi Museum."
The delegation – which included ex-officers from the National Security Agency, the Central Intelligence Agency and British MI5, who count themselves among the members of the Sam Adams Associates for Integrity in Intelligence (SAAII) – had traveled to Berlin to confer the 2015 Sam Adams Award for Integrity in Intelligence on former NSA senior technical director-turned-whistleblower William Binney, for his role in exposing the extent of mass surveillance of ordinary citizens in the United States.
(More here)

(Interview on January 22, 2015 of SAAII awardee William Binney and other participants Thomas Drake, Jesselyn Radack and Coleen Rowley.)