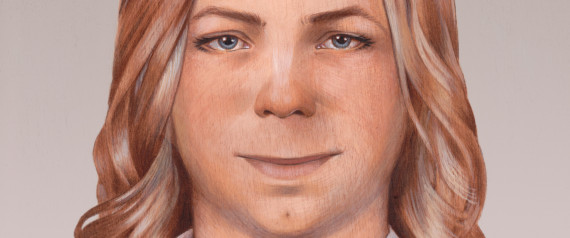 Know all ye by these presents that Chelsea Manning is hereby awarded the Corner-Brightener Candlestick, presented by Sam Adams Associates for Integrity in Intelligence.
The Sam Adams award is in the form of a candlestick holder, as it celebrates the shining of light into the murkiest areas of human activity. This Chelsea Manning did to tremendous effect. Never before had the potential of the information age to expose the evildoing of the powerful, been so fully exploited and revealedChelsea's work opened up a new era in the relationship between governors and governed.
Chelsea, you acted from motives of compassion for the victims of war crime and concern that the policy of your country was creating rather than reducing violence and terrorism, while the true facts were consistently withheld from the public. The articulacy, good sense, and
genuine humanitarian concern which characterise your defence statement at your show trial, will eventually be recognised widely as a classic and lasting testimony of the very best of the human spirit.
It says everything you need to know about Barack Obama's United States that one of its noblest citizens now languishes in one of its jails. Chelsea, you are more free than all those who spend their lives covering up for evil. We applaud your courage, dignity and integrity and we want you to know that, wherever you may be, we are always with you and supporting you. It is an enormous honour for me, Ambassador Craig Murray, to present you with this, the Sam Adams Award.
Presented this 19th day of February 2014 by admirers of the example set by the late CIA analyst, Sam Adams.
Related Articles
As the hysteria about Russia's alleged interference in the U.S. election grows, a key mystery is why U.S. intelligence would rely on "circumstantial evidence" when it has the capability for hard evidence, say U.S. intelligence veterans. (Originally posted December 12, 2016 on Consortiumnews.com)
Veteran Intelligence Professionals for Sanity
MEMORANDUM
Allegations of Hacking Election Are Baseless
A New York Times report on Monday alluding to "overwhelming circumstantial evidence" leading the CIA to believe that Russian President Vladimir Putin "deployed computer hackers with the goal of tipping the election to Donald J. Trump" is, sadly, evidence-free. This is no surprise, because harder evidence of a technical nature points to an inside leak, not hacking – by Russians or anyone else.
Monday's Washington Post reports that Sen. James Lankford, R-Oklahoma, a member of the Senate Intelligence Committee, has joined other senators in calling for a bipartisan investigation of suspected cyber-intrusion by Russia. Reading our short memo could save the Senate from endemic partisanship, expense and unnecessary delay.
In what follows, we draw on decades of senior-level experience – with emphasis on cyber-intelligence and security – to cut through uninformed, largely partisan fog. Far from hiding behind anonymity, we are proud to speak out with the hope of gaining an audience appropriate to what we merit – given our long labors in government and other areas of technology. And corny though it may sound these days, our ethos as intelligence professionals remains, simply, to tell it like it is – without fear or favor.
We have gone through the various claims about hacking. For us, it is child's play to dismiss them. The email disclosures in question are the result of a leak, not a hack. Here's the difference between leaking and hacking:
Leak: When someone physically takes data out of an organization and gives it to some other person or organization, as Edward Snowden and Chelsea Manning did.
Hack: When someone in a remote location electronically penetrates operating systems, firewalls or any other cyber-protection system and then extracts data.
All signs point to leaking, not hacking. If hacking were involved, the National Security Agency would know it – and know both sender and recipient.
In short, since leaking requires physically removing data – on a thumb drive, for example – the only way such data can be copied and removed, with no electronic trace of what has left the server, is via a physical storage device.
Awesome Technical Capabilities
Again, NSA is able to identify both the sender and recipient when hacking is involved. Thanks largely to the material released by Edward Snowden, we can provide a full picture of NSA's extensive domestic data-collection network including Upstream programs like Fairview, Stormbrew and Blarney. These include at least 30 companies in the U.S. operating the fiber networks that carry the Public Switched Telephone Network as well as the World Wide Web. This gives NSA unparalleled access to data flowing within the U.S. and data going out to the rest of the world, as well as data transiting the U.S.
In other words, any data that is passed from the servers of the Democratic National Committee (DNC) or of Hillary Rodham Clinton (HRC) – or any other server in the U.S. – is collected by the NSA. These data transfers carry destination addresses in what are called packets, which enable the transfer to be traced and followed through the network.
Packets: Emails being passed across the World Wide Web are broken down into smaller segments called packets. These packets are passed into the network to be delivered to a recipient. This means the packets need to be reassembled at the receiving end.
To accomplish this, all the packets that form a message are assigned an identifying number that enables the receiving end to collect them for reassembly. Moreover, each packet carries the originator and ultimate receiver Internet protocol number (either IPV4 or IPV6) that enables the network to route data.
When email packets leave the U.S., the other "Five Eyes" countries (the U.K., Canada, Australia, and New Zealand) and the seven or eight additional countries participating with the U.S. in bulk-collection of everything on the planet would also have a record of where those email packets went after leaving the U.S.
These collection resources are extensive [see attached NSA slides 1, 2, 3, 4, 5]; they include hundreds of trace route programs that trace the path of packets going across the network and tens of thousands of hardware and software implants in switches and servers that manage the network. Any emails being extracted from one server going to another would be, at least in part, recognizable and traceable by all these resources.
The bottom line is that the NSA would know where and how any "hacked" emails from the DNC, HRC or any other servers were routed through the network. This process can sometimes require a closer look into the routing to sort out intermediate clients, but in the end sender and recipient can be traced across the network.
The various ways in which usually anonymous spokespeople for U.S. intelligence agencies are equivocating – saying things like "our best guess" or "our opinion" or "our estimate" etc. – shows that the emails alleged to have been "hacked" cannot be traced across the network. Given NSA's extensive trace capability, we conclude that DNC and HRC servers alleged to have been hacked were, in fact, not hacked.
The evidence that should be there is absent; otherwise, it would surely be brought forward, since this could be done without any danger to sources and methods. Thus, we conclude that the emails were leaked by an insider – as was the case with Edward Snowden and Chelsea Manning. Such an insider could be anyone in a government department or agency with access to NSA databases, or perhaps someone within the DNC.
As for the comments to the media as to what the CIA believes, the reality is that CIA is almost totally dependent on NSA for ground truth in the communications arena. Thus, it remains something of a mystery why the media is being fed strange stories about hacking that have no basis in fact. In sum, given what we know of NSA's existing capabilities, it beggars belief that NSA would be unable to identify anyone – Russian or not – attempting to interfere in a U.S. election by hacking.
For the Steering Group, Veteran Intelligence Professionals for Sanity (VIPS)
William Binney, former Technical Director, World Geopolitical & Military Analysis, NSA; co-founder, SIGINT Automation Research Center (ret.)
Mike Gravel, former Adjutant, top secret control officer, Communications Intelligence Service; special agent of the Counter Intelligence Corps and former United States Senator
Larry Johnson, former CIA Intelligence Officer & former State Department Counter-Terrorism Official
Ray McGovern, former US Army infantry/intelligence officer & CIA analyst (ret.)
Elizabeth Murray, Deputy National Intelligence Officer for Middle East, CIA (ret.)
Kirk Wiebe, former Senior Analyst, SIGINT Automation Research Center, NSA (ret.)
Six years ago today, WikiLeaks whistleblower Chelsea Manning was arrested in Iraq and shipped to Kuwait, where she endured brutal treatment in a metal cage, while awaiting transfer to a military prison. With preparations now underway for her appeal to the US Army Court of Criminal Appeals next year, the Courage Foundation is naming Chelsea Manning as the organisation's newest beneficiary.
The Courage Foundation will focus on European fundraising and campaign support for the former Army intelligence analyst, who is serving a 35 year sentence for passing hundreds of thousands of classified documents exposing rampant human rights violations and the true nature of the United States' wars in Iraq and Afghanistan to WikiLeaks.
EU donations to Chelsea Manning's defence fund can be made tax-free via the Wau Holland Foundation.
NSA whistleblower Edward Snowden said:
Chelsea Manning is the first American to be sentenced to decades of prison for revealing truthful information to the press. Her conviction — under a law even the ACLU says violates the constitution — is not just an injustice, it's a threat to journalism.
Please fight for the First Amendment. Fight for Chelsea Manning.
Julian Assange, editor of WikiLeaks and Courage Trustee, said:
Manning has already won the moral battle: every year, new whistleblowers step forward to follow her example. Now it is time for Manning to win her legal battle. The only just outcome in Chelsea Manning's case is her unconditional release, compensation for the unlawful treatment she has undergone, and a serious commitment to investigating the wrongdoing her alleged disclosures have brought to light.
Sarah Harrison, Acting Director of the Courage Foundation, said:
Chelsea Manning is one of the most important figures of the digital age and a hero to many of us. Her 35 year sentence is a travesty and her incarceration will be a lasting stain on America's reputation. Now that Chelsea's appeal process is finally underway, it is critical that her legal team is properly resourced.

Chelsea's case is very important to us at Courage; we know how much she matters. I am personally honoured to announce Chelsea Manning as a Courage beneficiary and look forward to working with all the other groups and organisations who have been fundraising and campaigning steadfastly for her freedom for the past six years.
Nancy Hollander, Chelsea Manning's attorney heading up the appeal, said:
We have spent the last three years preparing to appeal one of the most unjust convictions and sentences in military history, in one of the biggest and most complex cases we've ever worked on. Now that we have filed the appeal, we must wait for the government's response. Then we will file our reply and prepare to argue Chelsea's case before the appellate court. So this next year will be an important time for her case. Since her conviction, support for Chelsea has only grown around the world, as the world recognizes her commitments to justice, equality and a more accountable government. I'm delighted to see the Courage Foundation lend its support in this crucial time.
Pentagon Papers whistleblower Daniel Ellsberg said:
I waited forty years for Chelsea Manning. I don't want to wait another thirty to thank her in freedom. Please fund her appeal to free her!
Courage is managing the European side of Manning's fundraising and public support efforts, while Courage to Resist and the Chelsea Manning Support Network continue their work in the United States. European donations to Chelsea Manning's defence fund can be made tax-free via Wau Holland, here. See our new page for Chelsea Manning here.
The Charlotte Observer, March 3, 2016
Highlights:
He tried to bury reports on CIA torture, won't hold hearings
It hurts America's security and reputation
From Larry Wilkerson, a retired U.S. Army colonel and former chief of staff to Secretary of State Colin Powell. He is the Distinguished Adjunct Professor of Government and Public Policy at the College of William & Mary in Virginia. He is a Republican.
As he runs for re-election, U.S. Sen. Richard Burr is airing $300,000 in television ads that tout his record as chair of the Senate Intelligence Committee. The truth, however, is that Burr's handling of this key job has done our nation and North Carolinians a huge disservice.
The biggest challenge that confronted Burr as he took the helm of Intelligence in January 2015 was to come to grips with President George W. Bush's torture program.
The committee's six-year investigation had just revealed grim details of lawlessness and barbarism in the Central Intelligence Agency's enhanced interrogation program. In every way, Burr has shown himself to be the ultimate protector of the criminals at the CIA, not their overseer.
His first act as chairman was an attempt to recall the committee's 6,900-page "torture report" from the White House and executive agencies. He also tried to bury the Panetta Review, a still-secret internal CIA assessment of the torture program that, according to Intelligence members who have read it, is a "smoking gun" bolstering the negative conclusions of the committee's own report.
And Burr refuses even to hold hearings on CIA misconduct like "rectal feeding," sexual abuse and the torturing to death of detainees in its custody.
As a result, some presidential candidates now vie over who will order the harshest techniques. One promises more waterboarding, while another says he would go even further.
Read more here: http://www.charlotteobserver.com/opinion/op-ed/article63773397.html#storylink=cpy
Seven prominent national security whistleblowers Monday called for a number of wide-ranging reforms – including passage of the "Surveillance State Repeal Act," which would repeal the USA Patriot Act – in an effort to restore the Constitutionally guaranteed 4th Amendment right to be free from government spying.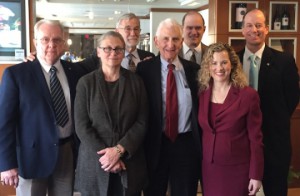 (Photo of (left to right) Kirk Wiebe, Coleen Rowley, Raymond McGovern, Daniel Ellsberg, William Binney, Jesselyn Radack, and Thomas Drake by Kathleen McClellan (@McClellanKM) via Twitter)
Several of the whistleblowers also said that the recent lenient sentence of probation and a fine for General David Petraeus – for his providing of classified information to his mistress Paula Broadwell – underscores the double standard of justice at work in the area of classified information handling.
Speakers said Petraeus's favorable treatment should become the standard applied to defendants who are actual national security whistleblowers, such as Chelsea Manning, Edward Snowden and Jeffrey Sterling (who has denied guilt but who nevertheless faces sentencing May 11 for an Espionage Act conviction for allegedly providing classified information to New York Times reporter James Risen).
In a news conference sponsored by the ExposeFacts project of the Institute for Public Accuracy at the National Press Club in Washington, D.C., speakers included William Binney, former high-level National Security Agency (NSA) official; Thomas Drake, former NSA senior executive; Daniel Ellsberg, former U.S. military analyst and the Pentagon Papers whistleblower; Ray McGovern, formerly CIA analyst who chaired the National Intelligence Estimates in the 1980s; Jesselyn Radack, former Justice Department trial attorney and ethics adviser, and now director of National Security and Human Rights at the Government Accountability Project; Coleen Rowley, attorney and former FBI special agent; J. Kirk Wiebe, 32-year former employee at the NSA.